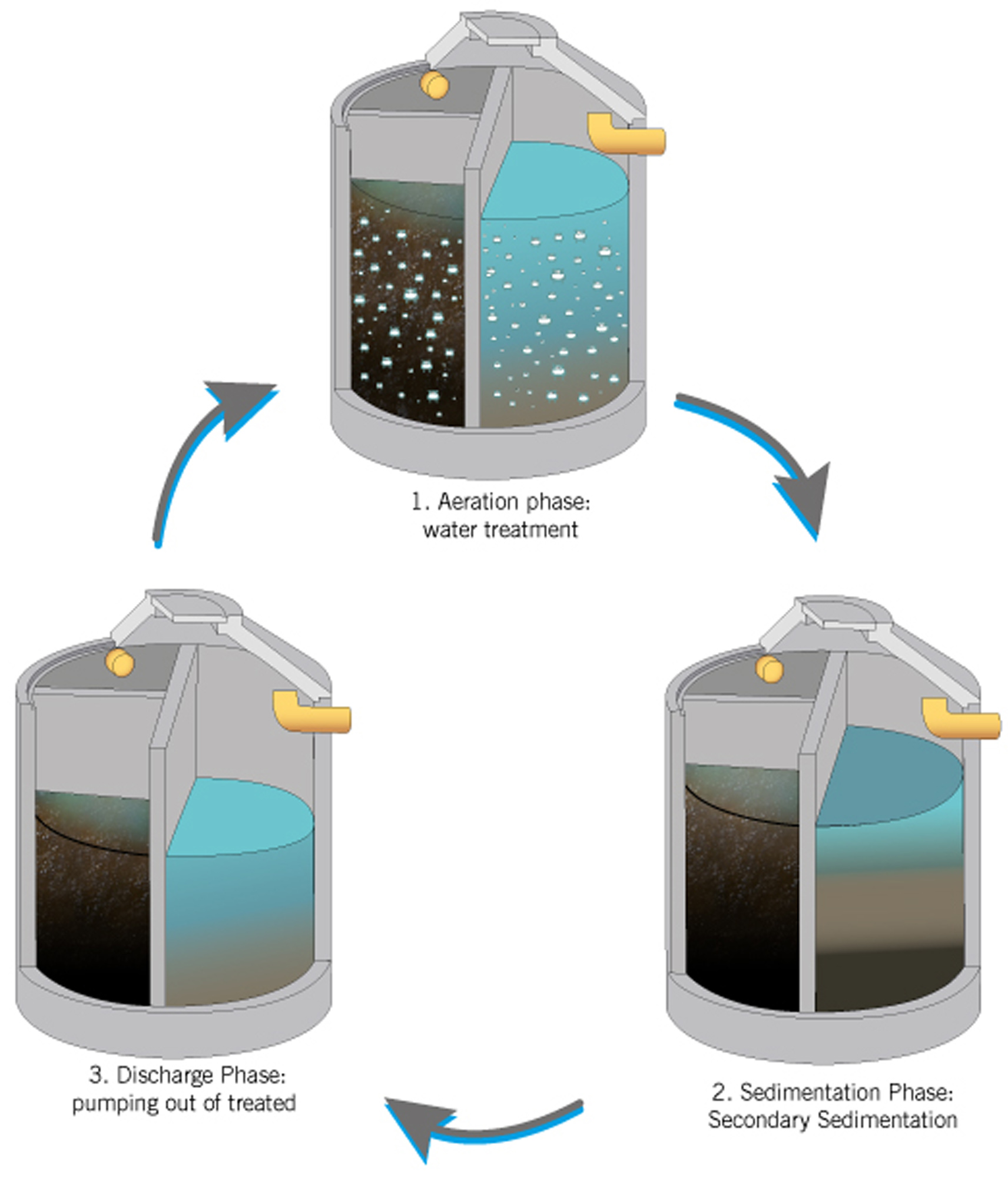 The AQUATO®STABI-KOM is a single stage activated sludge plant after the SSB® – process (sequential stabilizing activated sludge process – a sequential aerobic wastewater treatment plant with integrated sludge stabilization), developed by the company AQUATO®Umwelttechnologien GmbH.
In principle, both the cyclic wastewater treatment by sequencing batch process, as well as the separation of sludge, sludge stabilization and sludge storage are carried out in one common stage. Here, the individual processes are not physically seperated but in time (intermittent operation). The common stage is divided into at least two chambers. Additionaly to the function as primary settlement, the first chamber is also used for aeration. The last chamber is used for the intermittent oxygen input as well as secondary clarification.
1. AERATION PHASE: WATER TREATMENT
The incoming sewage initially reaches the first chamber. Here the biological treatment of the wastewater starts. Organic compounds are removed by the active microorganisms in the activated sludge. Optionally, the process of denitrification takes place here. In addition, coarse material in the first chamber is retained.
2. SEDIMENTATION PHASE: SECONDARY SEDIMENTATION
Biological treatment of the wastewater takes also place In the last chamber. At the same time this chamber takes also over the function of the final sedimentation by cyclic control of the system. The activated sludge settles to the bottom of the aeration tank. In the upper area the clearwater supernatant is formed.
3. DISCHARGE PHASE: PUMPING OUT OF TREATED WASTEWATER
The treated wastewater from the clearwater supernatant is pumped into the outlet.